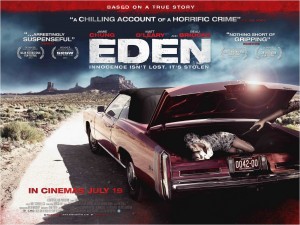 "Wearing just their underwear, the girls line up with their backs to the wall, arms by their side, heads down, frozen to the spot. They dare not move.  Their captors walk up and down the line – picking them seemingly at random and tapping them on the shoulder – 'You, you, you and you… come with me'.  In the back of a warehouse truck, they are driven for miles across the scorching Nevada desert until they reach a hotel. There, they are forced to have sex with up to 25 men one after the other.
This was life for Korean-born American Chong Kim who, at 19 years old, was sold as a domestic sex slave in 1994 to Russian gangsters and held captive for more than two years."
This powerful article briefly tells the story of one's woman's ordeal and eventual escape from sex trafficking here in the United States.  Her story has been made into film, Eden, winning countless awards at major film festivals for it's gripping tale of Chong Kim.
Unfortunately her's is not an uncommon story.  According to the FBI, sex trafficking is the fastest growing sector of organized crime both globally and here in the States.  Texas is one of the top 3 states of trafficking.  According to the National Human Trafficking Hotline, Texas is second only to California in domestic calls about trafficking.  Houston tops the list of cities in Texas however Dallas isn't far behind.
Victims of trafficking come in all shapes, sizes, colors, backgrounds and ages however there are some patterns that can be seen.  Many tweens/teens that become victims of trafficking tend to be runaways or come from difficult homes lives.  They are lured in with the promise of a better life, security, love, money, independence, glamorous clothes.  Many times the traffickers pose as concerned adults, becoming friends and boyfriends of their victims to gain their trust.
Chong explained it like this ""It's like a hunting game, they know how to hunt, they look for them, they watch, they observe. They'll do a round of tests,: says Chong. "A man will go to the bar and he will say 'who wants to get me a drink?' and the first woman who says 'I will' without knowing him gives him the signal that she will do anything for him." After just two months of dating, he drove her to an abandoned house in Oklahoma telling her that he needed to help a homeless friend. "I said I'd wait in the car and that's when he grabbed me by the neck and said 'you're going to do as I say'. And my first thought was 'what did I do wrong?'" He chained her up in the basement and burned her passport and documents. There, she was raped and tortured before she was transported to the warehouse somewhere in an Indian reservation in Nevada."
This is a horrifying epidemic that comes with long lasting mental, emotional and physical consequences for survivors.  Unfortunately, statistics show many women do not survive.
The good news is there are many organizations working to end sex trafficking and help relocate and empower survivors here in Dallas as well as around the country and the world.  If we want to leave our children a safer world then we can no longer put our heads in the sand and remain in denial about the atrocities that are happening in our own backyard.
Dallas was one of the 1st major cities in the country to view prostitutes as victims rather than criminals.  They began a program called Prostitute Diversion Initiative which assists women attempting to get out of prostitution by providing treatment and social resources that allow them to rebuild their life and heal the mental and emotional wounds that haunt them.  This program reflects a philosophical change within law enforcement and has shown great success in helping women change their lives.
Dallas Seminary published an article in January 2012 titled Human Trafficking: 20 Things You Can Do Today to Stop It. It is a great resource listing simple things we can do to make a difference.  This problem may seem overwhelming and we may question how one person can really make a difference but this article helps us see small ways in which we can be a part of change.
If you are interested in learning more about ways to get involved to help fight human sex trafficking here is a list of organizations doing just that:
Polaris Project
Traffick 911
North Texas Coalition Against Human Trafficking
Love 146
New Friends New Life